The mules are starting down the hill.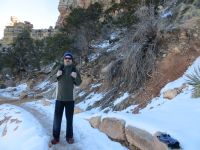 The intrepid explorer equipped with his trusty all-terrain sneakers.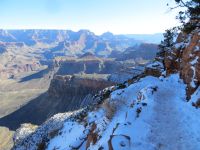 It was super cold and there was a lot of ice and snow.
Knarly pines and geology at work.
The mules head up the hill.
We can finally see the Colorado river below!
The Black Bridge across the river.
The tunnel that leads to the bridge.
On top of the Colorado.
We have descended from 6,800 ft elevation down to 2,400 (river level).
The only thing missing here is a cold beer.
The river water was a refreshing 42 degrees.
We start going uphill at dawn, this time via the Silver Bridge.
It doesn't look that far but it's a long climb.
At Indian Gardens the heat is usually the problem - not so this time!
Middle of February - the trails are not very crowded.
Most visitors never venture below the rim - what a pity!