The Family Goes Diving in Belize
When we decided to introduce our daughter Caitlyn to scuba diving, we asked our more experienced friends for recommendations. It became clear pretty quickly that the best destination would be Belize - it's quite close (which was important due to Caite's school schedule) and we were told that the diving was wonderful. We went there for 6 days in mid-November and we were not disappointed - Belize turns out to be a wonderful (but largely undiscovered) gem next door. We arrived in Belize City and caught our connecting flight on Tropic Air to the Ambergris Caye (island). The plane that we flew was not your typical commercial airliner, though:
In fact, on the way to the island the flight was full and one passenger had to sit next to the pilot, in the co-pilot's seat. Later in the week one of us would get the chance to experience the cockpit on another flight (more on this below). When we landed the resort we were staying at - Captain Morgan's Retreat - had a van waiting to take us to our boat. Capt Morgan's is one of many island resorts in Belize accessible only by boat.

This was the first time scuba diving for Caite so she had to take the "resort" diving class. Based on recommendations both from a diving shop in Scottsdale and people we talked to upon our arrival in Belize we chose to go with Patojo's Scuba Center and we were delighted with their service.

Caite's class was pretty easy, and the classroom wasn't very crowded:
In no time at all, we were out on the boat ready to dive in:
This was the first time we used an under-water camera housing, we chose the Canon WP-DC800 case which is designed for our S-400 digital camera. We had no problems with it at all and the pictures came out pretty well (though there is definitely some room for improvement).

To take a break from diving we spent one day cave tubing in the jungle on the mainland. First, though, we had to fly back to Belize City and that means another trip to the airport. We didn't get to see much of San Pedro, the main town on the island, but it looked like a nice place and next time we'll try to spend more time there.
The flight to Belize City being full meant good luck for one of us - here is the view from the seat during flight (yes, those are my knees on the bottom; I worried the entire flight that I might accidentally bump the steering thingamabob and kill everybody):
We spent our last day exploring Belize City, only to discover that, well, there is not much to explore. The town has about 70,000 people (the entire country of Belize has about 220 thousand inhabitants, which is less than Scottsdale). It's a nice town, though, right on the water.
The following picture of the acupuncture clinic we found right next door to our hotel doesn't do the place justice - it looks like they must practice on old car tires: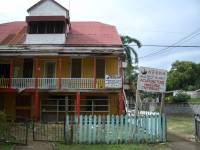 One last Belikin Beer and it's time to leave Belize - not for long, though, we'll definitely return soon!
Back to our travel page